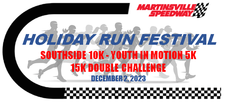 Route Map
Miles in Martinsville in partnership with the Martinsville Speedway presents the inaugural Holiday Run Festival.
This December 2 event will be run in conjunction with the annual Martinsville Speedway Toy drive. The Holiday Run Festival will feature two races and a walk, both starting and finishing on the iconic Martinsville Speedway. Founded in 1947 by the late H. Clay Earles, Martinsville is the only track which has hosted NASCAR Cup Series races every year since the division's inception in 1949.
The Youth in Motion 5K will start at 9:00 AM. This is the Fall race for the local Youth in Motion program. This program is designed to inspire young girls and boys to be joyful, healthy and confident using a fun, experience-based curriculum and creatively integrating running into their lives. This race will include serious competitors of all ages and will include the participation of a significant number of youngsters along with their coaches and mentors.
Also starting at 9:00 AM will be the 5K Toy Walk. The walk will be open to those who just want to walk the course and enjoy the ambience of the Speedway venue. Walkers will not be eligible for awards or race shirts.
The Southside 10K will start an hour later at 10:00 AM. This new race offers the opportunity for runners to challenge themselves over a longer distance. The 10K is a great stepping stone for those runners who are considering stepping up to a half marathon or full marathon.
Looking for more miles? Check out our 15K DOUBLE CHALLENGE. Register for both races under the category: 15K Double Challenge.
Run both the Youth in Motion 5K and the Southside 10K at scheduled times. Your 5K finish will be recorded by our timing company as you cross the finish line, and then be added to your chip timed results for the 10K.
Runners must start respective races at prescribed times of 9 AM for 5K and 10AM for10K. Participants may use the time prior to the start of the 10K to stretch, rest and re-hydrate.
Complete the 15K double Challenge and earn:
· A special finisher medal commemorating the achievement.
· Opportunity for Overall & Age Group Awards in the 15K Double Challenge and in individual 5K and 10K races.
All races start and finish at the checkered flag finish line located on the speedway's front stretch. Runners will run around the race track and then exit to circle the roads around the Speedway complex. The racers will finish by re-entering the track and running back to the checkered flag finish line.
Races are open to runners of all ages and abilities.