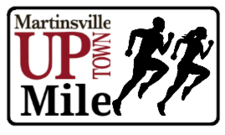 NEW VENUE- UpTown Martinsville 7:00pm race

Route Map
The UpTown Martinsville Mile is a salute to the historical allure of the one mile run. What runner isn't familiar with the first sub 4 minute mile run by Sir Roger Bannister. Typically, runners experience the one mile run only as part of a track meet. Most often at a high school or college track team event. This race will not be run on a standard 400 meter track but rather at a unique venue. The UpTown Martinsville Mile will be run on a two lap course around the streets of UpTown Martinsville. All ages, All speeds welcome. We are planning two heats. One for the speed demons and one for us normal folks.
ONLINE REGISTRATION DEADLINE IS MIDNIGHT August 11, 2021
Register online by clicking the registration link on this page.
Paper registration forms are available at link on this page and completed forms may be submitted at packet pickup – At the YMCA on Friday Aug 13, Noon – 6:00 PM; and on race day at Broad St / Church St intersection parking lot, 5:30 PM – 6:00 PM. NOTE: Friday & Saturday paper registrations are $25 with no tee-shirt guarantee. ONLINE REGISTRATION is strongly encouraged.
COVID-19 PROCEDURES WILL BE REQUIRED IN CONJUNCTION WITH CURRENT GUIDLINES.