Helgramite Hustle 5K Mud Run
at Smith River Fest
Saturday, August 12, 2017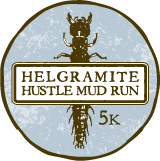 Registration is OPEN

Route Map
Join us for another great year at the Smith River Fest. It will be a muddy day for sure!
2017 Results
2016 Results
2015 Helgramite Hustle 5K Mud Run RESULTS
Who Can Run the Helgramite Hustle?
The cross-country 5K course has natural and man-made obstacles (with many thanks to Sandy River Equestrian Center!). Runners will traverse through mud pits, across open fields, and run through the stream and woods. Along the way obstacles and slide will make it a not so ordinary run. This is a great family fun event, guaranteed to provide plenty of mud and smiles. Participants of all ages are encouraged to run. Spectators will be able to see runners splash through mud and the creek as runners make their way to the finish line where they will receive a personal shower by the Axton Volunteer Fire Department.
JOIN US ON: