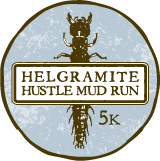 A Fun, Muddy, Slippery Obstacle Course for All Ages Walk, Trot, or Run ... Just Do the Hustle!

Route Map
Come to Smith River Fest and join the day long festival of activity. From the paddle race to the mud run athletes will be challenged. Held at the Smith River Sports Complex in Axton, Virginia, there is something for everyone -- including a river float and bikes for individuals of all ages, as well as a climbing wall and bounce house, food, crafts, demonstrations, and music. New to the line up this year, a duck race benefiting the Boys and Girls Clubs of the Blue Ridge. Watch thousands of ducks ride the river to victory! Top prize is $2,500. Purchase your winning duck at www.BlueRidgeDuckRace.com
The Helgramite Hustle Mud Run will accommodate both competitive runners and individuals, families and teams looking for fun. Awards will be given for the top three overall and master male and female participants, and to the top male and female in five year age groups beginning with 14 and under and ending with 70 and over. Run time is 2:00 p.m. Packet pick-up and on-site registration will begin at 10 a.m. Saturday morning at the festival up until race time.

Your entry fee includes race swag, on course aid stations, finisher's medals for all, post race food and drink, and free admission to Smith River Fest. The craft beer garden will be open from 11 to 5.

The cost to join the Helgramite Hustle fun is $40 until July 14, $45 from July 15 to August 4, and $50 from August 5 to race day. Register on-line today -- https://web3.trinexum.com/trinexumuserportal/login.aspx?it=Martinsville !
Come on out and join the fun -- 10 mud pits to get through and over 18 obstacles including a water slide! Walk, trot, or run ... just do the hustle!
New This Year, Team Challenges!
New in 2014, the Helgramite Hustle Mud Run offers you the chance to form a team and donate to several charities in your community!  For teams of 10 or more, the YMCA will donate 10% of your entry fee to one of the following organizations:

SPCA
Charity League of Martinsville and Henry County
Dan River Basin Association
Volunteer Fire Departments:  Axton and Dyer's Store
YMCA Building a Healthy Community Fund
Your Church

It is easy to do.  Form your team of 10 or more participants, register for the mud run on or before August 4, turn in all registration forms and payment at one time.  Activate and the YMCA will return 10% of your entry fees to the organization of your choice.

Who Can Run the Helgramite Hustle?
The cross-country 5K course has natural and man-made obstacles (with many thanks to Sandy River Equestrian Center!). Runners will traverse through mud pits, across open fields, and run through the stream and woods. Along the way obstacles and slide will make it a not so ordinary run. This is a great family fun event, guaranteed to provide plenty of mud and smiles. Participants of all ages are encouraged to run. Spectators will be able to see runners splash through mud and the creek as runners make their way to the finish line where they will receive a personal shower by the Axton Volunteer Fire Department.