Nail the Rail 9 Miler
Saturday, November 7, 2020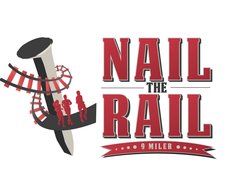 2020 event scheduled
Saturday - NOVEMBER 7, 2020 – 9 AM
Runners attempt to NAIL the RAIL by running the course in 60 minutes or less. A simple concept. Start at milepost -0- at the Dick & Willie Passage's Virginia Avenue Trailhead. Run to trail Milepost 4.5. Turn around and run back to milepost -0-. Runners of all abilities welcome. Whether you run 50 minutes or an hour and 50 minutes, you accomplish something that a majority of folks cannot. You run 9 miles!
Registration will open in early 2020.
2020 Registration
RESULTS
Met the Challenge
The Nail the Rail Challenge is to complete the entire 9 miles of the trail in under an hour. See the complete list of those that Nailed the Rail since the race inception in 2015.
JOIN US ON: