Nail the Rail 9 Miler and Virtual 9 Miler
Saturday, February 9, 2019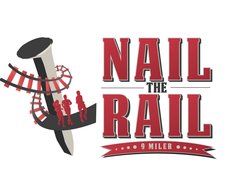 Nail the Rail 9 Miler
It's a simple concept really- start at the zero mile marker of the Dick and Willie Passage, run all the way to the 4.5 marker at Mulberry Creek, turn around, and run back. The question is how fast can you do it? Runners will take off at promptly 9:00 a.m. to see how quickly they can Nail the Rail!


New- Virtual Race. Can't run the race on race day??? Now you can run between February 3 and 10 and submit your GPS watch time to brad@martinsvilleymca.com. Virtual runners will receive the same race swag. Awards for top 3 male and female will also be given for virtual runners.
2018 Registration
2018 Results
Had 5 Nail the Rail today. First female, Kaitlyn Spangler Nailed the Rail at :58:14!!! Awesome job everyone! Virtual runners are added in!!!!
2016 NTR Results
What a great day.... COLD but great. Thanks for all those that came out.
Past Nail the Railers!
2015 Individuals that NAILED THE RAIL
Johnny Pickard
:52.12 Modified Challenge- Donated to have time lowered by 27 minutes
Susan Thacker
:58.01 Modified Challenge- Donated to have time lowered by 27 minutes
2016 Individuals that NAILED THE RAIL
2017 Individuals that NAILED THE RAIL
Patrick Woodford
:48.38 *Course Record
Ben Williams
:58.09
Virtual Run
Johnny Pinkard
:51.18 Modified Challenge- Donated to have time lowered by 27 minutes
Frank Finch
:55.04 Modified Challenge- Donated to have time lowered by 27 minutes
2017 Results
2015 Nail the Rail Results
JOIN US ON: