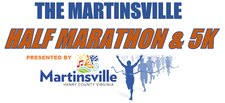 Join Us!

Route Map
VERY IMPORTANT ANNOUNCEMENT
PLEASE READ CAREFULLY
On January 9, 2019, we posted about a potential change to our Martinsville Half Marathon race course due to severe erosion on the Dick & Willie Passage Trail. County authorities have now notified us that damage is worse than originally thought and that section of the trail will not be repaired in time for our March 30 race. Unfortunately, there is no way to simply bypass that section of trail.
THEREFORE WE ARE ANNOUNCING A CHANGE TO OUR ORIGINAL COURSE
The new course will retain the character of the original and will still be run on Uptown Martinsville streets; the Uptown Connection Spur Trail; and the upper section of the Dick & Willie Passage Trail. The course will keep the original start and finish lines. Please note that this change will result in the course not being USATF certified. However, rest assured, it will still be 13.1 miles!
Local runners who reviewed the change, feel that it is excellent solution to the problem. Most would suggest that the resulting elevation chart could bring faster times versus the original.
The new course map is attached and can be found under our race link at WWW.MILESINMARTINSVILLE.COM.
The race will start and finish in the original location. Following the street by street, turn by turn instructions, runners will discover the first 6 miles follow the original course. Then runners will return to Uptown Martinsville via Uptown Connection Spur rather than continuing down the Dick & Willie Passage Trail. Following a simple loop turn they will return to the Dick & Willie Passage for a second loop on the section run previously. Upon returning to Uptown Martinsville at the end of the second loop, runners will move directly to E. Church Street via Franklin and Walnut Streets and negotiate the final mile to the original finish line.
We are working on producing a video tour of the new course which we will place on our website at WWW.MILESINMARTINSVILLE.COM upon completion. It will also be posted on the Miles in Martinsville Facebook page.
If you have any questions regarding details of the new course, please do not hesitate to contact Joe Philpott by email at braverunner67@gmail.com or telephone at 276-252-2011.