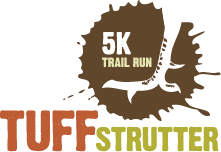 Route Map
53 Brave Souls Enter the Tuff Strutter Trail Run!
Sunday, May 26, 2013 provided a beautiful day for the second annual Tuff Strutter 5K trail run.  The cool temperatures and light breeze made for a perfect running day at Blue Mountain Festival Grounds.  Sam Lev and Ariel Leath of Copper Hill, Virginia were the male and female overall race winners with recorded times of 23:30 and 30:14 respectively.  Second and third place finishers were Josh Sutcliffe and Adam Jones; and Tracy Key and Leslie Bird.  Masters awards went to Bobby Carlsen and Iris Sutcliffe.  Grand Masters awards were earned by Frank Finch and Sarah Brinks.  Following the race and awards ceremony, participants were treated to a day of excellent music at the Rooster Walk Festival.
Mark you calendar for 2014 and start training on hills and rocks now!  The course is a tough one and preparation is key.  Thanks to all who came out to run, volunteer ,and support the race.