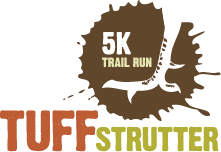 Final Strut at the Blue Mountain Festival Grounds -- Challenge Yourself!

Route Map
"Toughest Trail Run on the East Coast!"
Mark your calendar for May 25, 2014 and start training on hills and rocks now!  The course is a tough one and preparation is key.  Seasoned trail runners have likened the Tuff Strutter to some of the hardest courses on the east coast -- "even more challenging than the Pilot Mountain trail run" was reported by several.  So, if you are in to trail runs and challenges, the Tuff Strutter is one for you.  Last year's best time was recorded at 23:30 by Sam Lev followed by Josh Sutcliffe with 28:31.

Registration is $25 for the race only and $40 for the race and Sunday music line-up before April 28.  Prices go to $30 and $45 from April 29 to race day.  If you are already a Rooster Walk ticket holder you may join the brave Tuff Strutters for a mere $20.  Register on-line until 9:00 a.m. Friday, May 23 or the morning of the race.  Packet pick-up and day of registration begins at 7:30 Sunday morning. Allow time to park remotely and walk to the start area.  As a Rooster Walk ticket holder, please mail in a paper registration or register at the festival merch tent.
Race swag will include Tuff Strutter tees and finisher's awards for all!  Awards will be given for the top three male and female participants; and for male and female Master.  They will also be given to the top male and female finishers in five year age groups.

Rooster Walk has just announced a few bands in their line-up, including the headliner Karl Denson's Tiny Universe, Yarn, The Lee Boys, Sanctum Sully, After Jack, Hotel de Ville, Stephane Wrembel, Jon Stickley Trio, Mason Via and many more.  Get your tickets and details at www.RoosterWalk.com.